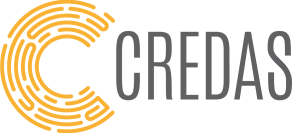 Our system can provide real-time biometric identity checks from Credas. We understand that Law firms face increasing pressure from regulatory bodies to comply with anti-money laundering legislation. The Solicitors Code of Conduct requires firms to have a system in place to manage risk, complete due diligence and comply with these legal obligations. Therefore, our system has been designed to provide you with a fast, efficient and reliable solution to ensure that any Credas ID checks are completed swiftly.
The Solicitors Regulation Authority will take action against those that fail to comply.
Credas biometric ID checks combine Identity Verification and Facial Recognition technology enabling law firms to perform Anti Money Laundering checks in real-time. Credas confirms the authenticity of the identity document and that it matches the individual, providing lawyers with a clear audit trail and assurance that any confidential information is safe and secure.
The UK's most accurate verification tool at your fingertips.
The first of its kind in the UK, innovative, next-generation technology wrapped up in a simple, user-friendly app.
Verify anytime, anywhere with the mobile app. Simply email or text a link to your client.
97.7% accuracy with facial recognition.
100% accuracy with the NFC passport chip.
Save up to 180 hours and their associated costs per week.
All data held in the Microsoft Azure cloud, a globally recognised and secure platform.
App available and supported across all devices iOs and Android.
Credas biometric ID checks are fully integrated into Redbricks conveyancing case management solution, enabling users to automate the process and remove duplication of key data.
And Credas biometric identity verification checks are just one of the many features our system has to offer.

Looking to find out more about the many benefits of our case management solutions?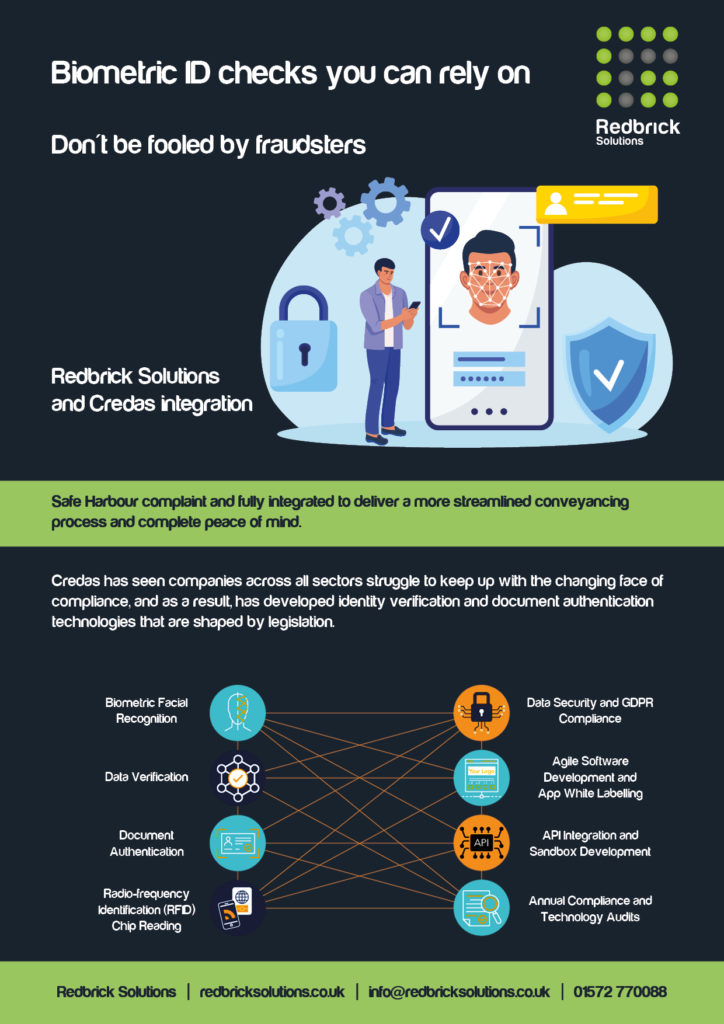 Prices are as follows:
| | | | | |
| --- | --- | --- | --- | --- |
| Name | Includes | <50 pm | 50-99 pm | 100 + pm |
| ID only | ID visual + ID NFC + text message(s) | £8.50 | £7.50 | £6.50 |
| Safe Harbour Advanced AML | Above + Address/DOB/Mortality + Bank Account | £9.50 | £8.50 | £7.50 |
| Safe Harbour Enhanced AML | Above + PEPS & Sanctions + Credit Status | £10.50 | £9.50 | £8.50 |
A source of funds service is due to go live shortly.
For further information please contact us