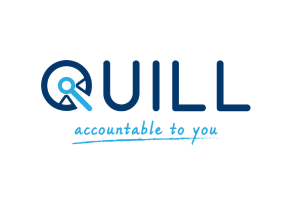 Dedicated legal accounting software for the smart law firm. Quill integrates fully with Redbrick to connect front-office and back-office functions so you can keep all your cases, contacts, financials and documents organised in one place.
Quill is the user-friendly way to take control of your finances and ensure you are fully compliant with regulatory rules; be it the SRA Accounts Rules, CLC Accounts Code or Scottish Accounts Rules, as well as MTD and AML.
Plus, Quill's the only provider in the UK with in-house legal cashiering and payroll bureaus (as well as outsourced typing and mailroom services), which ultimately saves you thousands in employment, training and overhead costs.
In 2022, the Law Society appointed Quill as one of its trusted legal accounting software and outsourced legal cashiering suppliers – making Quill the first-ever legal cashiering provider recommended by the Law Society. For further information on the Law Society partnership, please visit: https://www.quill.co.uk/affiliate-partnership-with-the-law-society.
Spend less time managing your firm, and more time making money by driving efficiencies to help you succeed. Contact us to find out more.
Efficient, Compliant Conveyancing: Integrating Workflows and Accounts
Discover how the simple move to integrating your legal accounts with a specialist conveyancing system, can improve efficiencies and ensure compliance in our webinar session below:
If you would like to learn more about our integration with Quill, then get in touch with the Redbrick team today.